Local and Knowledgeable Builder Blackpool
When you invest in something as big as a home renovation project, you want the reassurance that the tradesmen you use are reliable, trustworthy, and will help to transform your property into the house of your dreams. What better way to get some insight into all of these things than to learn about the experiences of other customers? Keystone Construction North West Limited is proud to boast a long list of extremely satisfied Blackpool customers; we have produced outstanding results for them and cultivated a strong relationship. Head on over to our testimonials and gallery pages to discover more about our previous work.
Finding a builder that is both based in Blackpool and highly skilled is no easy feat, especially if you have a large number of improvements to make on your home, but want to keep disruption to a minimum with as few workers as possible. The talented team here at Keystone Construction North West Limited offers a diverse choice of skills and services to our customers to keep all of our construction work efficient and professional. From loft conversions and home extensions to technical services such as structural and ground work, we are confident that we can provide exactly what you need to improve your home.
Our ethos has always been to deliver exceptional service to our customers, from choosing only the highest quality materials in our construction work to turning up on site promptly each day. We absolutely love what we do and this is clearly reflected in our positive and enthusiastic approach to each and every project we carry out. This is precisely why we are so highly regarded in the local community and, therefore, the premier choice for a builder Blackpool wide.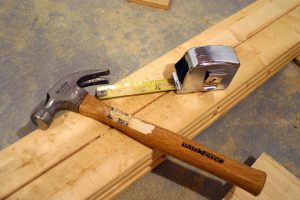 Highly Recommended Builder Blackpool Based and Beyond
As well as being recommended by customers across the Blackpool area, clients will undoubtedly be pleased to learn that we are members of one of the largest UK-based trade associations of builders. The Federation of Master Builders ensures that all of its members follow a strict Code of Practice, accordingly carrying out regular inspections to enforce these regulations and to make sure that a high level of construction quality is always present.
Here at Keystone Construction North West Limited, we believe that customers should be made completely aware of the price and timescale of their chosen renovation project. Unlike a number of our competitors, we will never attempt to mislead our customers with hidden costs and unnecessary work, offering a free, no obligation quote service to help our clients better understand what we can do for them without being subjected to the usual pressure techniques.
Don't wait any longer for a high quality, professional recommended builder Blackpool based. Contact Keystone Construction North West Limited today to talk to us about your construction needs and to benefit from our extensive knowledge and experience. We are available on 01253 508781 or by completing our quick and easy contact form.