Your Local Builders Blackpool
If you are thinking about renovating your property, then you'll no doubt want to find local and reliable builders. If you're based in the Blackpool area, then you need to look no further than Keystone Construction North West Limited. Our highly skilled tradesmen and builders have over 20 years of experience in carrying out home extensions and loft conversions, and always provide a premium service to our clients from the early stages of a project through to its completion. Alongside our experience in designing and planning, every builder is an expert in a range of construction services including maintenance, structural work, and groundwork.
Quality Build in Blackpool
When you decide to undertake a major renovation on your property, you want the confidence that those working on the project are completely trustworthy and will take care of your home. This is exactly why our polite and friendly builders here at Keystone Construction in Blackpool, ensure that they always arrive promptly on-site and are considerate of your everyday life by keeping disruption to an absolute minimum; this means each builder will keep the construction site as tidy as possible during and after every working day.
It is extremely frustrating when there is a breakdown in communication with your builders, especially when it appears that no progress is being made, despite the looming completion date. We always prioritise strong communication with our customers and promise to keep you fully informed at every stage of the construction. By always keeping you updated, you can be confident that all of our planned work is completed and that you are able to share any queries or concerns you may have.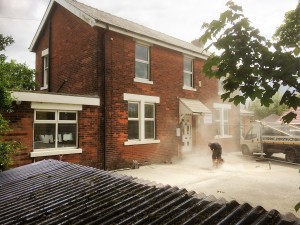 Trustworthy & Dependable Builder Company in Blackpool
We are proud to have worked with a wide range of very satisfied customers across the Blackpool area, as evidenced by our fantastic testimonial page. Our builders have earned a reputation for retaining an extremely high standard for all of our projects, and for being wholly client-focused; customer satisfaction and outstanding results are at the heart of everything we do.
Why wait any longer to start your dream home renovation? Get in touch with us now to discuss your bespoke project with a professional builder in our team. Having recently moved to Marton Moss, we're even closer than we were before for anyone in Blackpool. Come and see us at our new address; we're on Kitty Lane, just a few minutes from the airport. Alternatively, you can reach us directly on 01253 508781, or by completing our online form. If you're in need of a reliable builder in the area, it has to be Keystone Construction North West Limited.